Stone Rings by Triad Collection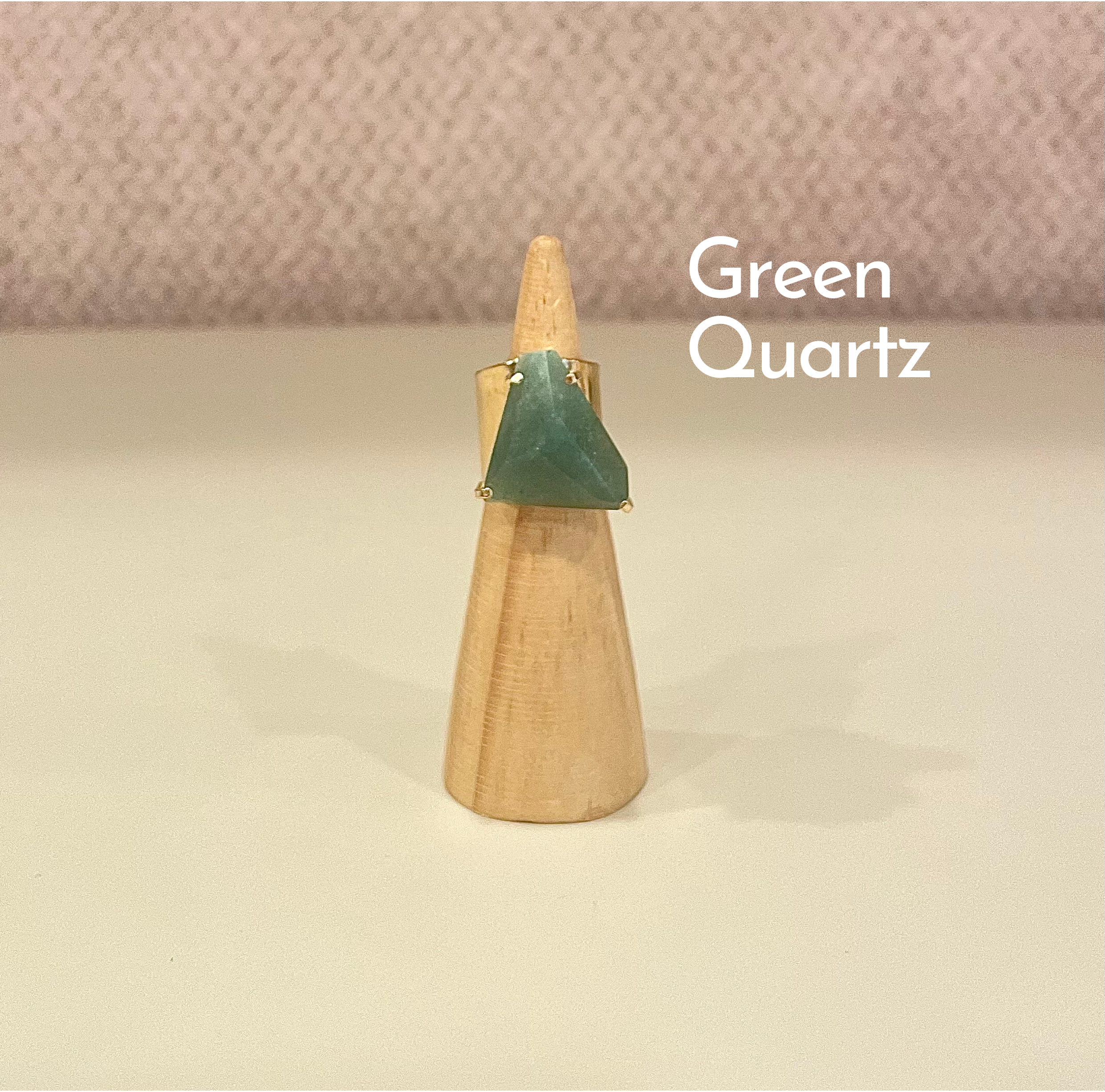 Designer: Triad Collection
 Mineral stone chunky rings that are adjustable to different size of fingers.  All stones are unique & vary in shape.
 Pyrite: is a very protective stone, shielding the user from negative energy of all kinds. Pyrite blocks energy leaks and mends auric tears. Carry Pyrite in your pocket to protect you from both environmental pollution and physical danger. Pyrite also promotes good physical health and emotional well-being.
Aragonite: 

Aragonite provides 

strength and support

, helping to combat anger and emotional stress. Aragonite is attuned to the Earth Goddess, encouraging conservation and recycling. It is a reliable earth-healer and grounding stone.

 Pink Tourmaline: Pink tourmaline is highly valued by people facing difficulty confronting their fears. Those suffering from panic attacks and are in need of something to aid in calming their sense of inner chaos can also benefit from this gem.
Aquamarine: The aquamarine crystal is thought to help wearers better and more holistically heal from emotional trauma through cooling tempers and conflict. Other benefits of wearing aquamarine include stress relief, helping suppressed emotions resurface and instilling a sense of peace.
Black Tourmaline: One of the best stones for energetic clearing is black tourmaline. Often thought of as a stone of protection, black tourmaline is one of the best crystals for anyone new to crystals or seasoned experts. This stone is particularly useful for people who are experiencing high levels of stress anywhere in their lives.
Labradorite: A stone of transformation, Labradorite is a useful companion through change, imparting strength and perseverance.  It balances and protects the aura, raises consciousness and grounds spiritual energies.  Excellent for strengthening intuition - promoting psychic abilities.  Powerful in revealing the truth behind illusions, Labradorite banishes fears and insecurities, and strengthens faith in the self and trust in the universe.  It stimulates the imagination and calms an overactive mind, developing enthusiasm and new ideas.

Green quartz: also known as Praesolite and Prazeolite, means harmony and prosperity1. The color of green quartz is due to the iron inclusions present in it1. The main meaning of green quartz is centered around the idea of bringing about a more compassionate heart2. It is also tied to the pursuit of creative inspiration, a greater sense of intuition, or a higher level of spiritual connection.

Tiger's Eye: is a gemstone that represents the power, courage, and fearlessness of the tiger. It is a member of the Quartz family and has been revered for centuries. The stone is commonly a metamorphic rock that comes in shades of reddish brown with iron stripes. The meaning of Tiger's Eye is self-confidence and inner strength.
Citrine: crystal of abundance is effective in detaching the hold of the ego, leading you to happiness and optimism.
Sodalite: The energies of this stone will encourage you to be true to yourself, to stand up for what you believe in, and to trust in yourself more.
Rose Quartz: Powerful vibrations that echo into your ambiance is how the rose quartz benefits affect your life. Coined as the "Heart Stone,'' it is an important gem that draws new love, keeps family ties together and nurtures friendship.