Blue Sail Stripe Donna Top & Georgina High Waist Bottom by Maaji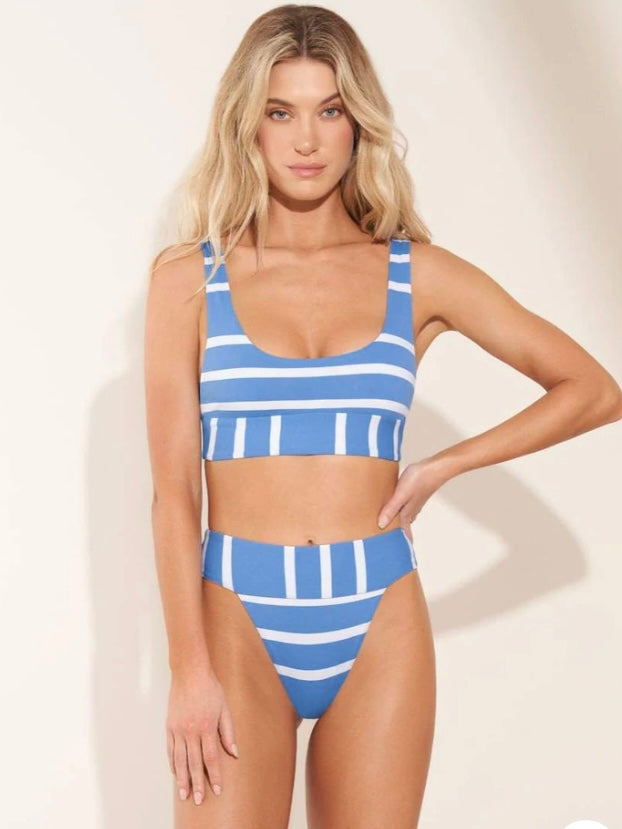 Designer: Indika Swim Boutique
Add a splash of fun to your swimwear collection. Sporty, fashionable silhouettes can make you have a fantastic day! Donna features adjustable straps, moderate coverage, and a long-line design. Lots of impressive things in just one piece.
Model Size and Measurement:
Caroline is wearing a size SMALL - Height: 5'10 (1,77 cm) - Bust: 32" (81 cm) - Waist: 24" (61 cm) - Hips: 33" (86 cm)
Gabby is wearing a size LARGE - Height: 5'10 (1,80 cm) - Bust: 41" (104 cm) - Waist: 34" (86 cm) - Hips: 44" (112 cm)
Garment Features:
Top, bottom not included
This is a REVERSIBLE piece, turn it inside out for another look
Moderate coverage
Adjustable straps
Reverses to a Maajical surprise print
With removable soft cups
Long line
Polyamide - Spandex
Stripe
Made in Colombia
92% Polyamide 8% Spandex
Care Instructions:
Hand wash at maximum temperature recommended 104°F/40°C
Do not tumble dry
Do not iron
Do not dry clean
Do not bleach
Do not wring
Mixing the Maajic of our beloved high rise and banded bottoms, we created for you girl the Georgina bikini bottom. A silhouette that gathers the fantastic features of a high-rise classic style and a more funny and sexy look! For every type of body, this style is ideal!
Model Size and Measurement:
Caroline is wearing a size SMALL and bottom in Cheeky Cut - Height: 5'10 (1,77 cm) - Bust: 32" (81 cm) - Waist: 24" (61 cm) - Hips: 33" (86 cm)
Gabby is wearing a size LARGE and bottom in Cheeky Cut - Height: 5'10 (1,80 cm) - Bust: 41" (104 cm) - Waist: 34" (86 cm) - Hips: 44" (112 cm)
Garment Features:
Bottom, top not included
This is a REVERSIBLE piece, turn it inside out for another look
High rise
Reverses to a Maajical surprise print
Cheeky coverage
Tab side
Polyamide - Spandex
Stripe
Made in Colombia
92% Polyamide 8% Spandex